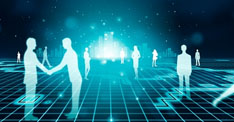 MANAGEMENT MBA
OBJECTIVES OF MANAGEMENT MBA
The MBA Management program aims to provide Managerial competence and to develop a recognized expertise in the resolution of management situations.
This skill is particularly appreciated in companies that are looking for executives with a strategic vision, a sense of leadership, and communication and teamwork skills.
Moreover, an essential space is made for the reflection and resolution of various concrete problems of direction and organization of companies, during the training and during the internship as well.
The Management MBA allows developing the following skills:

Analysis and synthesis capacities

The ability to organize, coach and motivate a team

Project Management capabilities and conducting studies.
TOPICS OF MANAGEMENT MBA 1

S1

International Strategy

Management Control and Performance Management

Human Resources Marketing

Business Plan and Start-up

Project Management

Management of Information System

Business English 1

Integrated Coaching and Management skills

Business Law

Human resources management

Pedagogical Internship European Construction and European Policies

S2

Logistics and Management of International Operations

Change management

Marketing Communication

Cross-culture Management

Financial Diagnosis

Business English 2

Management of the Purchasing Function

International Negotiation

Individual Projects

Oral (GO)
TOPICS MANAGEMENT MBA 2

S1

English

Research methodologies

E-business

Brand and Community

Economic Intelligence

Merchandising and Mass Distribution

Performance Management (Sales Force)

Innovations Management

S2

Internship

Individual project

Oral

Dissertation & Defense